A Reliable Netgear CM2000 Multi-Gig Cable Modem With High Speed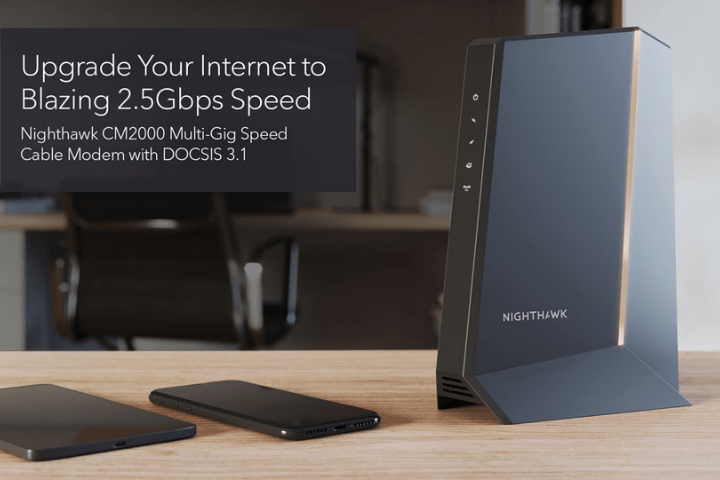 For users with sub-Gigabit connectivity, the CM600 is a significantly better bargain, especially considering the Netgear CM2000 price. While the modem works with almost all broadband providers globally. Users may experience the latest cable modems that deliver 2.5Gbps ultra-high-speed Internet connections with DOCSIS 3.1, allowing users to access the fastest broadband Internet service. This smart gadget provides the world's fastest cable Internet, with speeds way faster than DOCSIS 3.0.
Minimizing regular cable modem rental costs might result in huge savings per year. The Netgear CM2000 2.5 Gbps smart gadget is DOCSIS 3.0 backwards compatible & supports all internet broadband providers. Meet the industry's first & new era of retail cable modems, DOCSIS 3.1, which provides extremely fast broadband connectivity of 2.5Gbps. DOCSIS 3.1 delivers the world's fastest cable Internet with speeds a lot faster than DOCSIS 3.0. The Netgear Nighthawk CM2000 2.5Gbps Ultra-High-Speed Modem is DOCSIS 3.0 compliant & works with all Internet speed tiers. Read further to know more aspects of this smart gadget.
Netgear CM2000 Modem Specifications
The Nighthawk CM2000 wireless adapter provides 2.5Gbps super high-performance gigabit Internet access, enabling users for the fastest broadband service globally. The Netgear CM2000 device is DOCSIS3.0 compatible & works with all speed tiers of Internet service providers.
The Netgear CM2000 From Front Perspective
Since the device modem is logged into the system, the downstream, upstream, power & Internet indicators, where the modem glow constantly indicates that the device is connected & fully working.
The Netgear CM2000 From Back Perspective
The following buttons & ports are accessible on the rear of the Netgear CM2000 modem.
Reset – Restores the device factory default settings. This pushbutton is hidden to minimize inadvertent modem resets.
Custom Multi – Gig 2.5G/1G LAN – Interconnect this port with a 2.5 Gbps Ethernet network.
Cable – Connect this port to a coaxial cable line.
DC – Plug in the power cord to this port.
The Netgear CM2000's Performance & Usage
2.5X Internet Connections – The newest model through the use of a 2.5G Ethernet network offers roughly 2.5 times higher Internet speeds than the first era DOCSIS 3.0 modem.
DOCSIS 3.1 – Up to ten times higher download rates than DOCSIS 3.0. DOCSIS 3.1 makes use of 2×2 OFDM network linking, whereas DOCSIS 3.0 makes use of 32×8 channel bonding.
Multi-Gig Broadband Speed Network – Develop a unique series of cable modems that can deliver maximum speed.
Set Up For The Optimum Cable Internet Provider Services – Designed to support existing Gigabit (and greater) cable Internet service plans, as well as future upgrades.
Keeps costs down by removing its need to obtain a cable modem every month.
Backward Connectivity – It is interchangeable to 32×8 cable bonding in DOCSIS 3.0 mode.
Works right out of the box for XFINITY from the spectrum, Cox, Comcast & others.
Easy Setup – Only a few simple steps are required for a trouble-free installation.
Energy Savings – Even though it is energy-saving, it reduces the amount of input power by cable modems.
Compatibility With The Nighthawk Multi-Gig EcoSystem – Functions so well with RAX200, Orbi RBK852 & RAX120 with 2.5Gbps WAN Port. It's also good for ISPs.
Netgear CM2000 Modem Features
The DOCSIS 3.1 Version Of The Netgear CM600 Is Now Available
Like the CM600, the new & latest CM2000 is a classic cable modem. There is a main connector & a network node port on the rear. The Netgear CM2000 features the most current DOCSIS 31 standard, which is a 2.5Gbps Smart port. All of this has a big influence on specifications: This modem is capable of providing internet super – fast to 2.5Gbps. The CM2000, like certain other DOCSIS 3.1 transceivers, may also be used as a DOCSIS 3.0 router. This may be utilized practically everywhere a cable network is used.

Hardware Prerequisites
Whereas modem can support up to 2.5Gbps extremely fast Internet, users need a connection including a Multi-Gig WAN connector. Following that, your provider must make the high-speed plan available to you, an individual must be prepared to afford it.
A Straightforward Online Interface & A Uniform Setup Procedure
The Netgear CM2000 features a localized web-based interface that is accessed by typing 192.168.100.1 into the smartphone's default IP address. A gateway is a useful tool for determining the status of their WAN connection. Furthermore, users need to utilize it for the whole setup procedure. Before you can use the modem, you must first register it with their broadband Internet service provider. Users may get it by following this in-depth post. In general, however, plug it into your functional area & then interact with your operator to link it to your service, perhaps using a search engine or a phone call.
Incredible Performance
The Netgear CM2000 is similar to the one we reviewed later this year, although with somewhat faster upload & download speeds of around 15Mbps, and 700Mbps respectively. The CM2000, such as CM600, was included in an Xfinity bundle, thus there were no additional bandwidth/model-specific features to notice. I couldn't achieve faster speeds due to the constraints of my cable plan, but the modem's reliability was fantastic.
PROS Of Netgear CM2000
Fast and dependable performance, with internet speeds of up to 2.5Gbps
Supported by several cable companies
Relatively small in size, with a visible status light
Extensive web interface
CONS Of Netgear CM2000
Expensive
Only one LAN port, neither any WAN Link Aggregation
Closing Thought
There's no need to acquire the Netgear CM2000 Modem unless an individual already crossed the Gigabit barrier. Even so, if users been considering switching their broadband connection to a Multi-Gig connection, now is the moment. One thing is certain irrespectively of your fibre broadband subscription, this modem will function flawlessly. 
It's simply an issue of justifying the expense, which users should be able to repay over time by avoiding the equipment rental price. In most circumstances, though, I'd look at its older sister, the CM600, which is perfect for a sub-Gigabit service.
Also Read: Use The YouTube To Mp3 Conconverter